Services
---
Hearing Conservation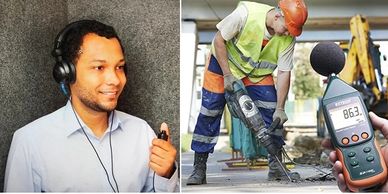 On Site testing is conducted in our mobile units - up to 6 employees at a time.
Sound level is continuously monitored and audiometers will pause if acceptable noise levels are exceeded.
​Test results are explained to employees immediately after the test is finished.
Video hearing conservation training available in English and Spanish simultaneously!
Testing is performed to OSHA Standards by CAOHC certified technicians and evaluated by Certified Audiologists. All data is tracked using Occupational Health Manager.
You receive a preliminary report before we leave the site, with all the necessary details. After our Certified Audiologist has reviewed the results you receive a letter explaining the required actions.
No hassles in changing vendors! All previous test results are entered in our computer system at no additional cost.
Respirator Fit Testing
Quantitative fit testing (Portacount)
Your employee will be more confident that the respirator they have chosen, when worn correctly, is protecting them
Testing conducted during normal work hours - employees do not have to leave the work site.
Medical Clearance Exams
We utilize microprocessor Pulmonary Function testing equipment.
Full physicals and other testing is also available.
All medical testing is evaluated and certified by a Board Certified Occupational Physician.
You receive a letter listing Medical Clearance for each individual in a format that meets OSHA standard and is very easy to understand.
Each employee receives a confidential letter explaining the results of their tests.